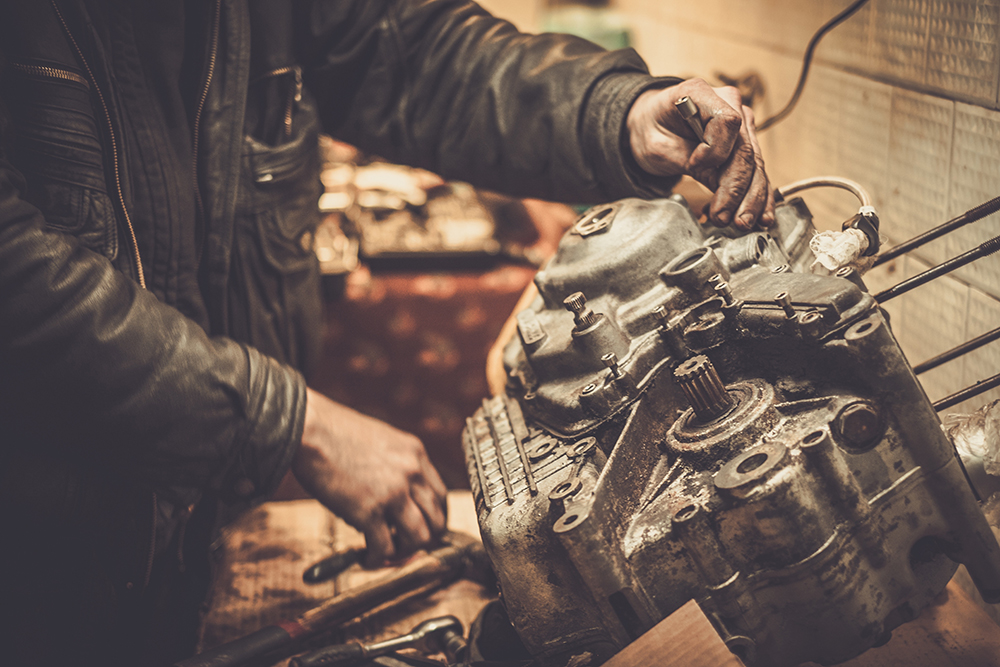 You just couldn't help it.  You were driving to work when you saw it, or maybe you were surfing through listings on a local internet resale site when you found your dream bike.  It gleamed with potential, but it was clear from the start that this was going to be a labor of love—with emphasis on labor.  Before you succumb to buyer's regret and sell your dream at a loss, take a look at this basic guide to rebuilding an old motorcycle and get a feel for the challenge you and your motorcycle have ahead of you.
Find a Service Manual: Yeah, we know what we're asking, but you'll be happy every time you work on your bike that you took the time to track down a good manual that leads you through the steps for basic maintenance and major repairs.
Take a Solid Assessment: Having a complete list of all the work your bike needs helps you plan for the time and expense involved with a complete rebuild.  Enlist the expertise of a trusted mechanic to make a plan for rebuilding that considers shipping times and your budget.  Pay the mechanic for their time; it's a worthwhile investment.
Check the Battery: Follow the instructions in your service manual to check the voltage to the battery.  Charge the battery overnight and see if you get lucky.
Rebuild that Carburetor: Remember that most vintage bikes you love will come with a carburetor.  Get a can of good carburetor cleaner and get ready to give it a good going-over.  Remove all the rubber parts from the carburetor, then spray on the cleaner and get going.  If the gaskets have gone brittle and it looks a little rough, you're doing yourself a favor by rebuilding it.  Rely upon your service manual for steps to follow for cleaning and rebuilding the carburetor.
Gas Tank Time: Follow your manual for cleaning the gas tank if you are noticing some rust.  Use a good cleaner and use nuts and bolts to knock out the rust.
Spark Plugs: If you can't see the spark terminal through the muck and the mire, save yourself the trouble and replace them.
Run an Electrical Check:  Turn the key and see what happens! Once you know your battery is good, you can ensure that the instrument panel is illuminated and that your headlights and turn signals are good to go.
Time for the Oil Change:  Go ahead and get good at this maneuver now.   Plan on replacing the oil filter when you rebuild the engine, and follow your manual for motor oil requirements.
Remember, any time you disassemble an engine component, replace the related gaskets and seals.  Ensure even wear for your parts, and a reliable seal that keeps out oil, water, and dirt that can compromise performance.  Gasket King maintains an inventory of over 12,000 aftermarket gaskets for motorcycles made by all the greats.  Choose from our extensive inventory, or send us your drawings and specs for a custom fabrication.  When you need quality replacement gaskets for your vintage bike, call Gasket King at 817.562.8178,  shop online today or complete the online contact form to send us a question or learn more.