Are you looking for aftermarket motorcycle engine gaskets?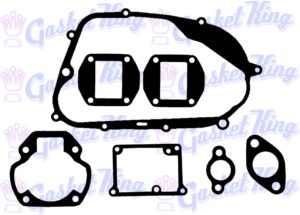 During the course of motorcycle ownership, you're going to need parts. Old bikes spring new leaks, components fail, and regular road wear takes a toll.  So, you get out the tools and start working—hoping to spend as little time and money as possible.  When you get into your engine, the gaskets and seals may look great, but don't be fooled into taking a shortcut. Reinstalling your old gaskets and seals with new parts accelerates their wear and will ultimately cost you more time, money, and headaches.  Once a gasket is exposed to the heat and pressure of a motorcycle engine, they compress to create a perfect seal.  Replacing all the gaskets and seals involved in repair or regular maintenance with aftermarket motorcycle engine gaskets protects you from gaps that can leave you vulnerable to damage from water, oil, and road grime.
Aftermarket Motorcycle Engine Gaskets
Aftermarket gaskets can be made from engineered fiber that is manufactured all over the world, materials and gaskets with quality varies by country of manufacture.  Because there is no obvious difference, riders often choose to shop price over quality.  For the best seal, consistent thickness, and for reliable wear, choose an aftermarket motorcycle engine gasket that is made from quality composite, using cutting methods that create a smooth, consistent gasket.
At Gasket King, carry a large database of aftermarket motorcycle engine gaskets.  Choose from our extensive online inventory, or send us your drawing and specs to have a gasket custom fabricated.   Each of our gaskets meets or exceeds OEM specs and carries a 100% satisfaction guarantee.  Each of our gaskets is made in the U.S.A. of American materials, in factories we know.  We specialize in composite fiber, with the ability to produce more than 12,000 different gaskets.   If we don't already have, we can make it.  Gasket King is a family-owned business driven by our passion for motorsports.  We understand why you love to ride, and it is our goal to keep bringing you top-quality gaskets that keep you on the road.
If you are looking for aftermarket motorcycle engine gaskets, call 817.562.8178 or shop online today to view our inventory of gaskets or learn more about having a gasket custom made for you and let us help you keep your vintage motorcycle running great for miles.
Featured Gaskets