Are you looking for motorcycle engine gaskets?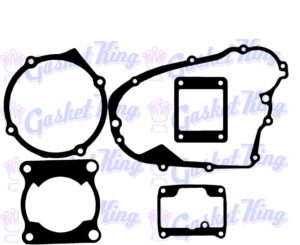 At Gasket King, we know you have a special relationship with your motorcycle.  We understand, because we share your passion for motorsports.  Putting in miles on a beautiful day, discovering new places and revisiting old favorites makes the time spent on maintenance worthwhile.  Some riders look forward to routine maintenance as a chance to spend quality time in the garage,  to get to know your bike and invest in its longevity; others want to get it done as quickly, easily and affordably as possible.
If you love to wrench on your motorcycle or you loathe it, the principles of good maintenance are the same.   Choose high-quality replacement parts, use the proper tools and prepare your engine components properly.   Never reuse old gaskets when performing maintenance or repairs, and make sure that mating surfaces are clean and free of debris before installing your new motorcycle engine gaskets.  Follow the recommendations in your manual for sealants, and give yourself enough time to properly finish the job. Remember that not all replacement motorcycle engine gaskets are equal.  Inferior materials and imprecise cutting methods can leave you with leaks that rob your engine of performance and have the potential to do serious damage.
Motorcycle Engine Gaskets
Gasket King specializes in composite fiber gaskets for vintage motorcycles.  Our gaskets meet or exceed OEM specifications and are made from top-quality American materials.  We have the capability to produce over 12,000 different gaskets, as well as the ability to custom fabricate the precise gasket you need. Send us the old gasket or submit a precise drawing or outline, and we'll handle the rest.  Our goal is to continue building the largest database of motorcycle engine gaskets available for riders, racers and bike builders alike.
Gasket King is a family-owned and operated business with a simple, old school philosophy:  do what you say and say what you do.  We back every gasket with our Gasket King 100% satisfaction guarantee. Let us put our years of experience and enthusiasm for vintage motorcycles to work for you.
If you are looking for motorcycle engine gaskets, call 817.562.8178 or shop online today to view our inventory of gaskets or learn more about having a gasket custom made for you and let us help you keep your vintage motorcycle running great for miles.
Featured Gaskets