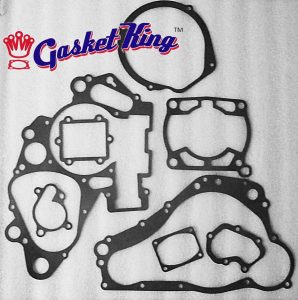 Gaskets are an essential part of any engine. A seal meant to fill a space between two "joined" objects while under compression, the seals prevent fluids from leaking, maintaining the integrity of the engine and all of its components. Even if a part doesn't fit perfectly with another, any gaps and small imperfections are filled with the correct sized gasket.
When it comes to the gaskets in your bike, the cost is usually not much however, the labor involved with repairing the bike can be costly. For the integrity of your bike and the health of your wallet, it is important to be sure that you get the right gasket, the first time. If any gasket is sub-par or is not the correct fit, the parts won't seal properly and the damage can be extreme. For a classic bike, this can be a huge expense and difficult or impossible to replace.
Finding parts, especially gaskets which fit perfectly can be a challenge, especially when it comes to the classics. For this reason, Gasket King is building one of the largest "out of production" inventories in the world to keep those classics alive and running. We specialize in composite, fiber gaskets to ensure that you get the best fit possible for your bike. Whether you have a 1977 Yamaha XS750 or a Hondo CB92, we can help.
Finding the gasket you are looking for is easy with Gasket King. Simply choose the manufacturer of your bike and then start searching. If you know exactly what you are looking for, you can simply type it in the search bar. If, for some reason, you are unable to find the gasket you need for your bike, contact us for a custom gasket. Simply provide your old gasket or a measured drawing to us, and we will get to work making you a custom gasket made of the highest quality material produced in American factories. From Bultaco to Gas Gas to Triumph and Honda, Gasket King has the gaskets you need for your classic.
We carry thousands of high quality gaskets for motorcycle classics, available for purchase at great prices. Our gaskets exceed all OEM specs and we guarantee 100% satisfaction. We've helped thousands of motorcycle enthusiasts with the gaskets they need to ride. All gaskets are high quality made from American premium material.