Are you looking for aftermarket gasket sets motorcycles?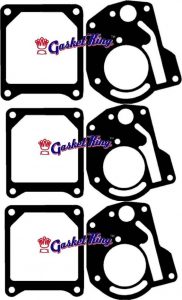 When it's time to perform some regular maintenance on your motorcycle, or you need to investigate a leak, be prepared to replace the gaskets and seals when it's time to bolt it all back in place.  You may be thinking it's a waste to replace your gaskets, but once your gaskets are exposed to engine heat and pressure, the fibers compress, and never recover.  When you reassemble your bike, the gaps from the previous compression leave your engine vulnerable to damage from road debris, oil, and water.   To help you save time, and a little money, aftermarket motorcycle gaskets are available as sets.  Aftermarket gasket sets for motorcycles save you multiple trips to the parts counter at the dealership, or to your local bike shop.  As you run down the parts list for your next work session on your motorcycle, be sure to include all the tools you'll need for each engine component affected. Keep your manual close by, or use your phone to watch video tutorials.  Including an aftermarket gasket set saves you from having to piece together the gaskets you need, and it ensures that you will have what you need to get the job done.   Choose an aftermarket gasket set that is made from high quality composite fiber, and is produced using sound manufacturing methods.   Starting with better quality raw materials and using consistent cutting methods.
Aftermarket Gasket Sets Motorcycles
Gasket King is family-run business with a passion for motorcycles.  We make it our goal to provide the best selection of individual gaskets and gasket kits for motorcycles.  We love vintage motorcycles, so we carry gasket sets for Gas Gas, Hodaka, Honda, Husky, Kawasaki, KTM, Polaris, Suzuki, Triumph and Yamaha, Bultaco, Hercules, Norton and Royal Enfield.  Choose from our inventory of over 12,000 gaskets, or send us your drawing or specifications, and we will custom fabricate the perfect gasket for you.  Each of our gaskets meets or exceed OEM specs and carries the 100% satisfaction guarantee.
If you are looking for aftermarket gasket sets motorcycles, call 817.562.8178 or shop online today to view our inventory of gaskets or learn more about having a gasket custom made for you and let us help you keep your vintage motorcycle running great for miles.
Featured Gaskets